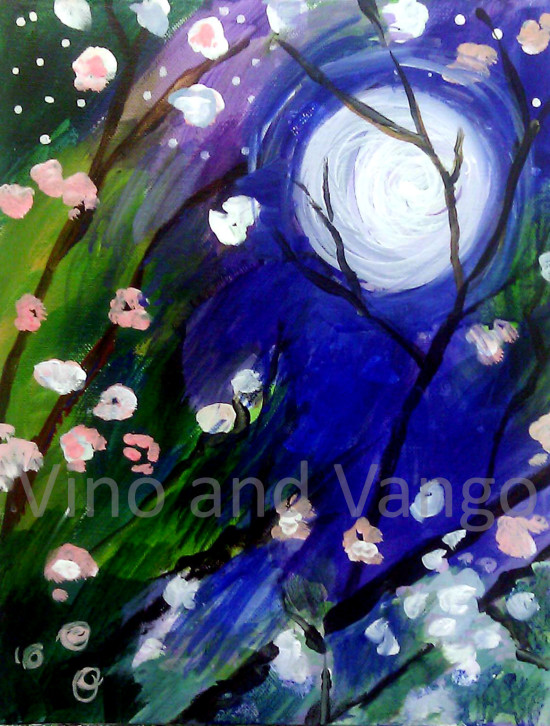 Mother's Day Eve "Night Blossoms" *plus* Vino and Vango's 6th Anniversary Party!
In stock
* Public Class *
* MOTHER'S DAY EVE / Vino & Vango's 6TH ANNIVERSARY PARTY *
…Featuring "Night Blossoms"
Saturday, May 13th :: 7 – 9 pm
*.*.*
Join us to paint "Night Blossoms" on Mother's Day Eve and celebrate with us our 6th Anniversary!
Mom loves to whoop it up on a Saturday night, too, you know… Bring her (or otherwise sign up for two) and receive a reduced price of 2 for $70 (one for $40). …Get a babysitter and come on out for date night ~ our Saturday night pARTy is the perfect Mother's Day treat!
Paint this Vino and Vango favorite with the bestest mom in your life as she savors a complimentary glass of wine; you'll both enjoy some hors d'oeuvres *on us*… and who knows, Mom could come away with an extra painting, too; we'll be holding free Artist Rendition Painting raffles!
Don't worry! If you're flying solo, or without mom or grandma along, you'll still take part in the raffles and have some snacks – it's our Anniversary Party, too!
…Come CELEBRATE with us!
"Night Blossoms" will look GREAT and add a little something to any room you choose… Or you could make it a fantastic, unique gift for a friend or family member.

You know, Grandma might just love this work by your own hand; have it ready for her on Sunday! 🙂
We will guide you all the way through – don't worry, you're in good hands. Canvases will be sketched on as needed, and our Artist Instructors know just how to make sure you're comfortable and knowledgeable while painting your very own masterpiece.
Though we'll be providing some hors d'oeuvres and a glass of vino for the moms in attendance, we invite you to bring your own snacks, sodas, juice, wine, cider, beer as you wish … Our instructor will be taking time to open and pour adult beverages for you, too.
Come and join the fun – We'll see you there!
Hey, don't forget… We have gift certificates available online! Just click here → GIFT CERTIFICATE! You could also stop by our studio to say hi, and pick one up while you're here.
Event Details
Date: 13 May 2017
Start time: 19:00
End time: 21:00
Venue: Vino and Vango
You may also like…