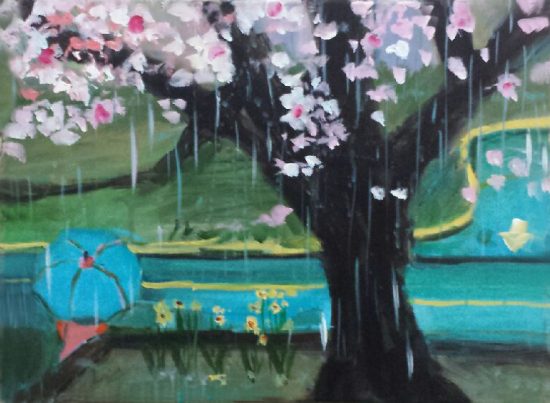 #Rainy Day #Eugene
*OPEN CLASS*
~ #Rainy Day #Eugene ~
*Saturday, April 8th from 7:00 – 9:30 pm*
Venture to downtown Springfield for an April evening of fun creation and creation of fun! Paint with us and explore your inner artist – and pARTier!
On April 8th, we'll be painting the brand new "#Rainy Day #Eugene"; a snapshot, in deep colors, of our very own University of Oregon campus! Work with the hues of a tree, its sweet blossoms, and even the street – we love that yellow line – as well as our university student (or staff member?) strolling by under painted dashes of rain. It's a beautiful spring work that'll brighten your walls year 'round; a work for any room – or any loved one (paintings – or painting parties! – make a great gift)!
Don't worry – it's MUCH easier than you think! Canvases are sketched on to help you out, and your artist instructor will guide you every step of the way! You can make as many artistic choices as YOU like, of course. You'll be pARTying with us at the same time you're learning about brush strokes and color application. It's truly a blast!
You are welcome to bring your favorite snacks, wine, beer, or cider – or anything non-alcoholic if you choose. Per OLCC regulations, we'll open & pour any adult beverages for you. Relax, eat, sip, & laugh while you bring out your inner artist. Then, leave with the best party favor ever ~ your very own masterpiece!

Vino & Vango's beautiful art studio is located at 236 Main Street, Springfield, Oregon. See you soon!
Should you feel so inclined, our artist instructors are happy to accept tips!
Only logged in customers who have purchased this product may leave a review.
Event Details
Date: 8 April 2017
Start time: 19:00
End time: 21:30
Venue: Vino and Vango