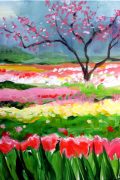 Springs at Greer Garden Staff Party
In stock
OFFSITE PRIVATE PARTY
Thursday, May 4th from 4:30 – 7:30 pm:
SPRINGS AT GREER GARDEN STAFF PARTY!
Join us for "Springs at Greer Garden Staff Party" (private party), to be held offsite at Springs at Greer Gardens Senior Living!

You're sure to have a "colorful" time as we paint the evening away… Relax, eat, sip, and laugh…
…We'll see you there!
Event Details
Date: 4 May 2017
Start time: 16:30
End time: 19:30
Venue: Vino and Vango
Phone: 541-505-9943
Only logged in customers who have purchased this product may leave a review.