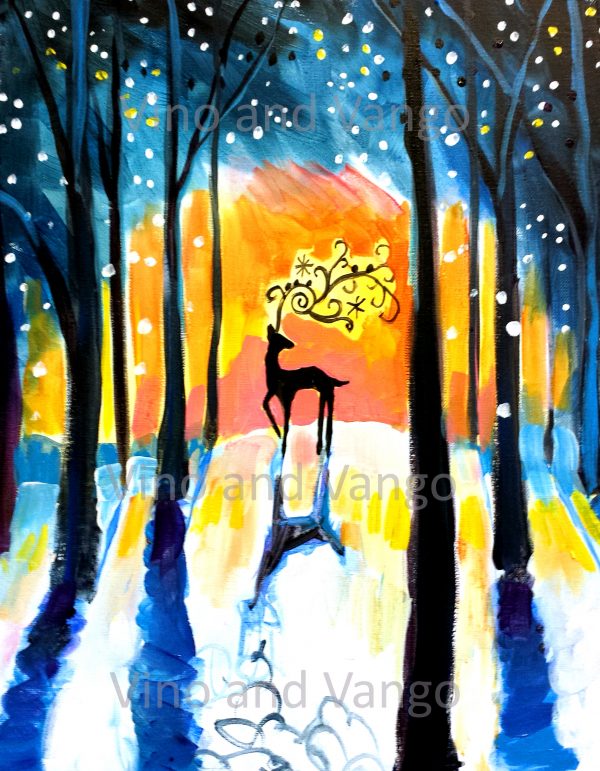 Deer in the Woods – Winter
In stock
* PUBLIC CLASS *
*DEER IN WINTER*
Tuesday, December 27th, 6 – 8 pm
Join us to Paint and pARTy at Vino & Vango's beautiful art studio, located at 236 Main Street, in Springfield, Oregon!
* * * * * * *
Join us on Tuesday, December 27th, from 6 – 8 pm to paint the magical, jovial "Deer in the Woods – Winter" – a favorite Vino & Vango offering!
Bright pinks and oranges, serving as a setting sun, highlight a mystical winter deer in the snowy woods; beautiful blues and teals are brushed in to a deep blue-black sky, all alit with stars. We think you'll love this painting, a nod to the wintry season, year – round!
It will grace the walls of your – or a loved one's! – home beautifully. A work of art by your own hands makes a fantastic gift from the heart. The painting CLASS, itself, makes a wonderful GIFT, too! (The holiday season IS upon us, officially – and we've got your gift, whether it's the painting you give – or the class itself.)
We will guide you all the way through – don't worry, it's *so* much easier than you think~! Canvases are sketched on to help out, with a template of the deer and so forth… "No Experience Allowed!" (Okay… That's not altogether true.. If you've got experience, you're more than welcome, of course!)
Bring food, wine, beer, soda, coffee, and nibbles of any sort to snack on while you socialize and paint. Don't worry about the rest! We supply ice for chilling drinks, napkins, plates, cups, utensils, bowls for chips, tongs and more. Note: Please allow us to open and pour your adult beverages, per OLCC regulations. We are happy to do this. While those consuming alcohol must be over 21, all ages are welcome to attend events at Vino & Vango!
Come join the fun – We'll see everyone there!
Event Details
Date: 27 December 2017
Start time: 18:00
End time: 20:30
Venue: Vino and Vango