Sale!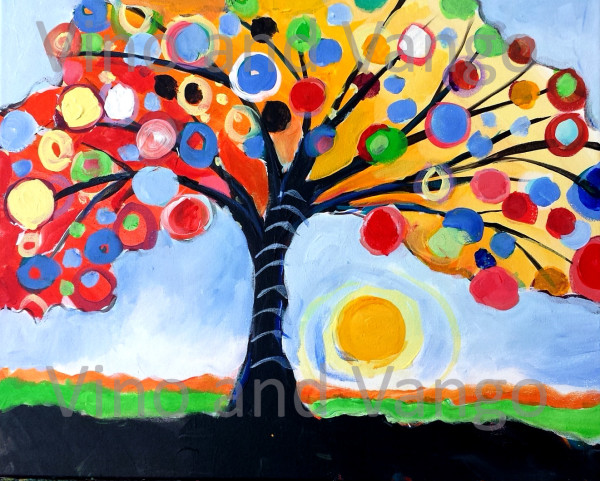 Lollipop Tree
In stock
PUBLIC CLASS
* LOLLIPOP TREE *
Sunday, February 18th at 6 pm
* * * * *
Join us to Paint and pARTy at Vino and Vango, 236 Main St., Springfield, OR. 97477
* * * * * * *
"Lollipop Tree" is a customer favorite at Vino and Vango, and we think we know why! It's so much fun to play with your tree's colors as you pARTy your evening away with us… There are no rules, after all, but there's plenty of help (if you want it)! Join us Sunday evening for this sweet offering and bring it home to decorate your home when you're all done!
Your skilled artist instructor will guide you along your painting adventure, giving you tips and tricks while strengthening your confidence. When the painting is complete, you get to take home a masterpiece by your very own hand! Voila'… An artist is born!
* Relax * Sip * Laugh * Paint *
Bring your favorite snacks and beverages ~ adult and / or otherwise; wine, cheese and crackers, beer, mini tacos, cider, soda, popcorn, juice, cake… Go Nuts! Don't worry about the rest: We supply ice for chilling drinks, napkins, plates, cups, utensils, bowls for chips, a cake knife, tongs and more! Please allow us to open and pour your adult beverages, per OLCC regulations.We are happy to do this. While those consuming alcohol must be over 21, all ages are welcome to attend events at Vino & Vango.
See you at the pARTy!
~ ~ ~ ~ ~ ~ ~ ~ ~ ~ ~ ~ ~ ~ ~ ~ ~ ~ ~ ~ ~ ~ ~ ~ ~ ~ ~ ~ ~ ~
Paintings – and Painting Parties – make great gifts!
GIFT CERTIFICATES

Only logged in customers who have purchased this product may leave a review.
Event Details
Date: 18 February 2018
Start time: 18:00
End time: 20:30
Venue: Vino and Vango
Phone: 541-505-9943
Email: info@vinoandvango.com