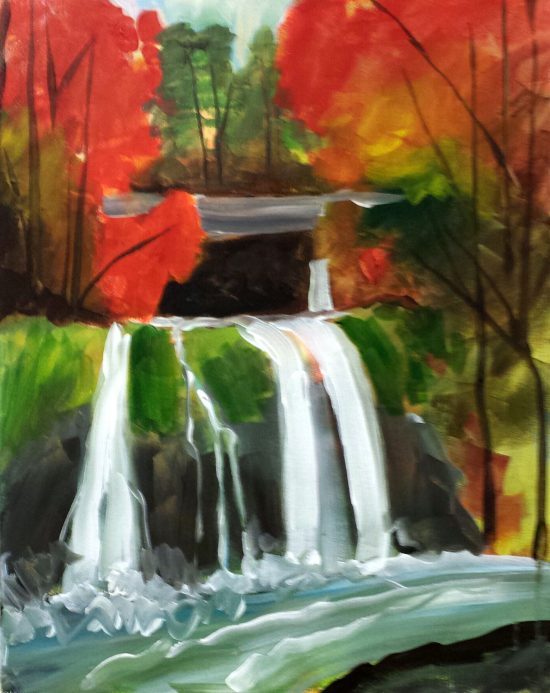 Teetotaler Friday: Waterfall in Fall
In stock
* PUBLIC CLASS *
Waterfall in Fall
Friday, September 29th, from 7 – 9 pm
* * * * * * *
Join us for our first Teetotaler Friday night to paint a Vino & Vango favorite, "Waterfall in Fall". This is an alcohol – free event, so if you don't care to drink, or perhaps you like to avoid anything close to a bar scene… Well, this class is for you!
Paint away while you socialize, snack, and sip your favorite non-alcoholic beverages on this September Friday.
You'll learn brush strokes, technique, and color while pARTying it up at our art studio, located at 236 Main Street in Springfield, Oregon.
Bring your favorite tea, coffee, fruit punch, sodas, kombucha, bubbly seltzers and snacks, hors d'oeuvers… you name it! Then, sip and snack yourself silly as you paint and laugh the evening away.
We will help to awake your inner artist throughout your experience; perhaps even discover a hidden talent..? Then, when the painting – and of course the pARTy – is finished, you'll get to take home the best party favor ever: Your own masterpiece!
Come join the fun.. We'll see you at the studio~!
Only logged in customers who have purchased this product may leave a review.
Event Details
Date: 29 September 2017
Start time: 19:00
End time: 21:00
Venue: Vino and Vango
Phone: 541-505-9943