THE VINO and VANGO STORY
Vino and Vango opened their first store in April, 2011. Six months before, we were moonlighting; renting spaces from various businesses in Eugene and Springfield. Vino and Vango was quickly accepted by HATCH, a local small business incubator, and we became their first hatchling project. We were blessed to have been given this amazing opportunity; a brand new 'storefront', low rent, free marketing classes, not to mention their unwavering support while we grew our business during what is usually a difficult first year. Who knew that there was such a need for this type of business?! The "sip and create" industry had arrived in Oregon and Vino and Vango was the first one to launch in the Pacific Northwest! (We're still the only brick and mortar establishment around - that means plenty of space for creativity - and All Ages!)
One year later, we found we no longer were a 'hatchling', and we "flew the nest". . . all of three storefronts up the street! We loved the location, the view, the 30 feet of visible street frontage. We decided to grow our roots in the newly burgeoning Downtown Springfield, a short hop across the bridge/river from Eugene. As word of mouth grew, so did Vino and Vango. A year after moving to the new store, a second classroom was added... Just last fall, we opened the Malerische Galerie, which serves now as a third classroom when needed.
We are grateful to be your Painting pARTy go-to! Thanks for supporting our small, 100% local, business!
ABOUT PAULINE HAUDER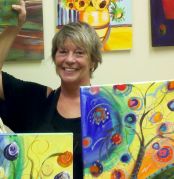 Pauline has been an art educator and professional artist since receiving her degree in 1972. Graduating with dual degrees in art and theater from the University of Nebraska at Kearney, she taught for 10 years in the Denver public school system, and finally retired from Oregon's Harrisburg High School in 2004. Pauline took a fifteen - year hiatus from teaching and devoted herself to painting full - time; she competed nationally with her works and taught art workshops throughout the Northwest. Her specialization was figures and bold compositions, and she became a master of color theory. She also developed a love of writing; leading the journalism department at Harrisburg High would finally come full circle...
Being the owner and managing artist of Vino and Vango requires many hats: writing, teaching, painting, marketing, and yes, entertaining! Teaching and leading 'the class / party' requires being fun, with just a touch of theatre... And so she has found this Vino and Vango hat that fits her talents and personality. What a job!
To view Pauline's personal artwork, please click on this link:
Pauline Hauder : Fine Art America
There are hundreds of "sip and create" industries throughout the U.S., but Vino and Vango has a very unique and special concept. Our method of teaching and our 40+ years of combined painting experience allow us to offer quality paintings that are like no other! Our customers leave with an Impressionistic - styled piece of artwork; much richer, so much more to attract the eye... A real piece of art. Much thought goes in to the conceptualization and realization of each painting we create and then offer; we are proud of the work that goes in to each and every piece! We also know it's about the experience, too, and we *do* know how to throw a pARTy like no other! (Still, you won't find a simple daisy on a stick with two leaves in our catalog). We have lots of return customers that have become painting addicts. It's a good sign that we are on the right path. (Don't forget your punch card - you'll get a free class in no time!)
Vino and Vango was developed during difficult economic times and has proven it's ability to thrive. Our mission is to continue this path of offering quality painting products to our customers, and bring the magic of the Vino and Vango experience to customers throughout the northwest. Our paintings are easy to replicate, with our artist instructors' expert help - you can do it!
We are proud to boast that Vino and Vango is here to stay!