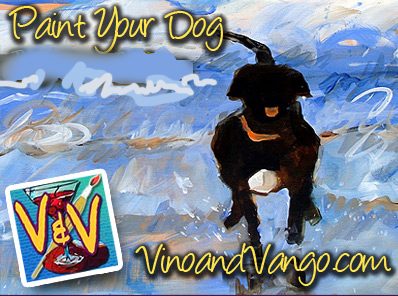 Beach Dog!
PUBLIC CLASS
* Paint Your Dog *
Thursday ~ July 19th
6 – 9 PM
* * * * *
Join us to Paint and pARTy at Vino & Vango's beautiful art studio, located at 236 Main Street, in Springfield, Oregon!
* * * * * * * * *
PLEASE READ INSTRUCTIONS BELOW:
1. Send 3-5 photos of your pet/s. Running, standing, jumping, etc.. Just keep in mind we'll be painting them on a beach, so action shots are preferable. Be sure to get full-body pictures of your cuties. You will not need to go to the beach to get a shot for this class. We will paint your animal into our beach background.
NOTE: DO NOT SEND PORTRAIT SHOTS or CLOSE-UP pictures. This is not a portrait class
3-Legged pictures are best, an picture that shows 4 legs is standing, and painting resembles a tinker toy animal.
We want moving shots, unless you are coming to our Couch Potato Class, then we are all about sleeping, sitting, etc.
2. Email THREE great images of EACH dog you'd like in your painting to: info@vinoandvango.com. Please write BEACH DOG and THE NAME YOU REGISTERED UNDER in the subject line.
We will choose one of your three images (per pet), enlarge and simplify it, then sketch it onto your canvas. Everyone will paint the same ocean beach background, but your palette will have the specific colors for your pet. We'll leave out unnecessary detail, but you will definitely recognize your pet in your painting! We must have your images emailed to us no later than 5 pm on Monday, July 16th.
* Relax * Sip * Laugh * Paint *
Bring your favorite snacks & beverages ~ adult &/or otherwise; wine, cheese & crackers, beer, mini tacos, cider, soda, popcorn, juice, cake… Go Nuts! We've got your plates, utensils, cups, napkins, etc…

Come join the fun – We'll see you there!
Event Details
Date: 19 July 2018
Start time: 18:00
End time: 21:00
Venue: Vino and Vango