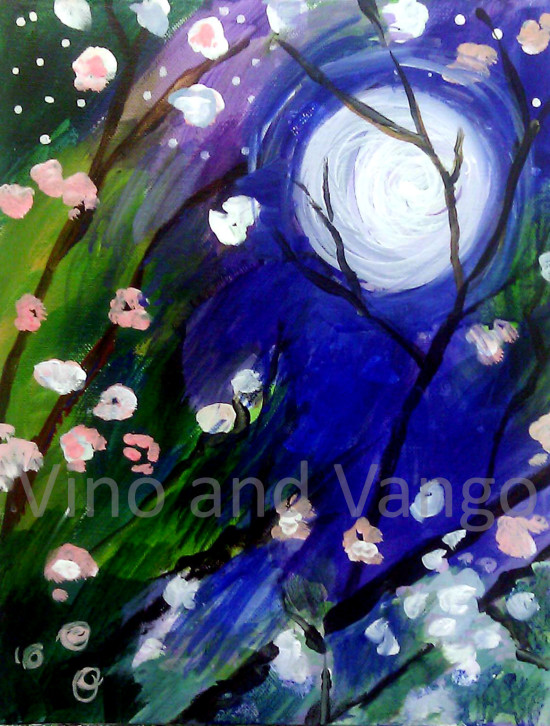 GloryBee HR Team
In stock
PRIVATE PARTY
*GLORYBEE HR TEAM!*
Wednesday, September 20th from 5:30 – 8 pm
* * * * * * * * *
Guests of the "Glorybee HR Team" (private) party will have a colorful time gathering to celebrate, paint, and pARTy at Vino & Vango's beautiful art studio! We're located at 236 Main Street, Springfield, Oregon.
Painters are welcome to bring their favorite party refreshments, such as seltzer, juice, tea… And of course wine, beer, or cider! Please have proof of age (21+) if choosing a spirituous refreshment. Due to OLCC regulations, please allow us to open and pour any adult beverages for you. We are happy to do this!
Sustenance is also important for nourishing creativity; It's well known that celebratory cake has inspired many an artist! (We're just sure of it.) Chips and assorted cocktail foods also enkindle the fictive spirit… Bring whatever it is to nibble on that your heart desires! We've got the paper plates, wine cups, plasticware, bowls for chips, tongs, and so on. If you are wondering if we've got the service ware you're looking for, just ask us.
* Relax * Sip * Laugh * Enjoy *
We will help guide your inner artist throughout this painting experience; possibly unlock a hidden talent..? Then, when the the pARTy is winds down, you'll take home the best party favor ever ~ your own masterpiece!
Only logged in customers who have purchased this product may leave a review.
Event Details
Date: 20 September 2017
Start time: 17:30
End time: 20:00
Venue: Vino and Vango
Phone: 541-505-9943