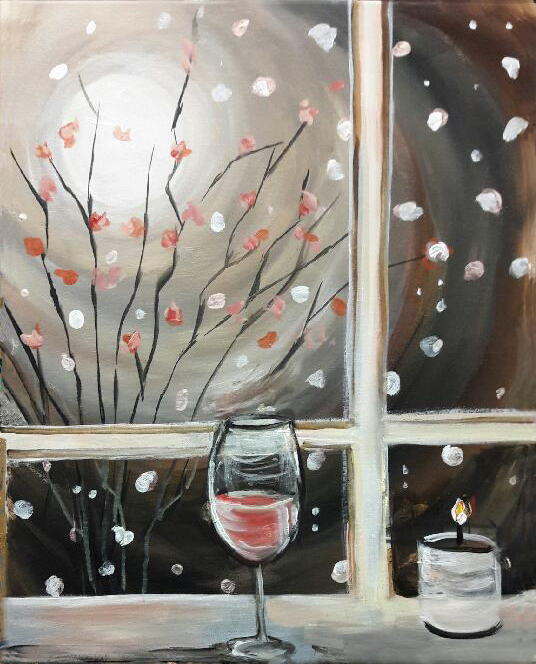 Moonlight and Rose'
In stock
* PUBLIC CLASS *
* Moonlight & Rose' *
Saturday, October 14th from 7 – 9 pm
* * * * * * *
Join us to paint and pARTy at Vino & Vango's beautiful studio, located at 236 Main Street, Springfield, Oregon!
"Moonlight & Rose'" urges you to snuggle up with your favorite book, pet or human – only kidding! We meant to say someone special. Whichever way you choose, it looks to be a perfectly cozy evening.
Your skilled instructor will guide you throughout your painting adventure, lending tips and tricks while helping to strengthen your confidence. When the painting is complete, you get to take home with you ~ your very own Masterpiece ~ An Artist is Born!
* Relax * Sip * Laugh * Paint *
Bring your favorite wine, beer, cider, snacks, soda, juice, cake, balloons – what have you! Don't worry about the rest, though; we supply ice for chilling drinks, napkins, plates, cups, utensils, bowls for chips, tongs and more! Note: Those consuming alcohol must be at least 21 years of age, and please allow us to open and pour any adult beverages for you per OLCC regulations. We are happy to do this. Don't forget all ages are welcome, although, you must be of legal age if you plan to drink.
Only logged in customers who have purchased this product may leave a review.
Event Details
Date: 14 October 2017
Start time: 19:00
End time: 21:00
Venue: Vino and Vango
Phone: 541-505-9943