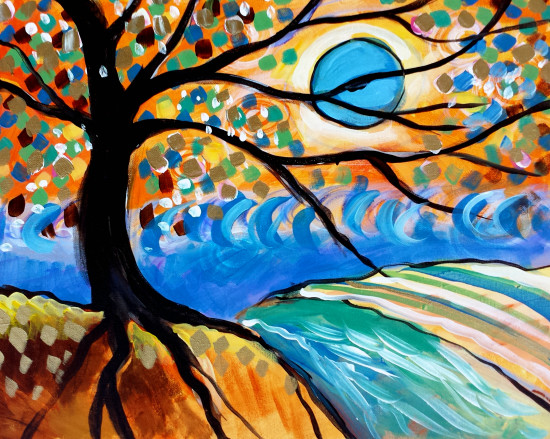 Pacific Blue Moon
In stock
* PUBLIC CLASS *
* PACIFIC BLUE MOON *
Saturday, November 11th, from 6 – 8 pm
Join us to Paint and pARTy at Vino & Vango's beautiful art studio, located at 236 Main Street, in Springfield, Oregon!
* * * * * * *
"Pacific Blue Moon" is back! We absolutely love the rich yellows and browns paired with blue in this work; a nod to fall, indeed, that'll look beautiful with your home's decor all year round!
Your Artist Instructor will expertly guide you through this piece; you'll learn brushstrokes, color, and composition – even as you pARTy along! At evening's end, you'll bring home a masterpiece, made by your own hand. …An artist is born!
* Relax * Sip * Laugh * Paint *
Bring your favorite wine, beer, cider, snacks, soda, juice, cake, balloons… what have you! Don't worry about the rest; we supply ice for chilling drinks, napkins, plates, cups, utensils, bowls for chips, tongs and more! Note: Please allow us to open and pour your adult beverages, per OLCC regulations. We are happy to do this. While those consuming alcohol must be over 21, all ages are welcome to attend events at Vino & Vango!
We'll see you at the pARTy!
Only logged in customers who have purchased this product may leave a review.
Event Details
Date: 11 November 2017
Start time: 18:00
End time: 20:00
Venue: Vino and Vango
Phone: 541-505-9943